How to hack windows 7 admin password from guest account. How to Hack Admin Password from Guest Account
How to hack windows 7 admin password from guest account
Rating: 9,5/10

1470

reviews
How to break into the Windows admin account from a guest account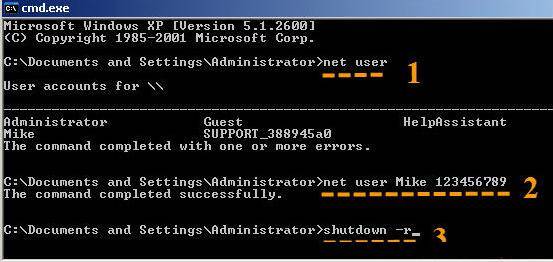 There is also another method to hack into the admin. If you're a newbie, this will go smoother if you have a geek help you out. I like to post everything which you need to know. Exploitation If u understand this much, then the exploitation is very simple for you. Check it out if you can , I am curious to hear your feedback on this issue.
Next
How to Hack Windows 7 (Become Admin) « Null Byte :: WonderHowTo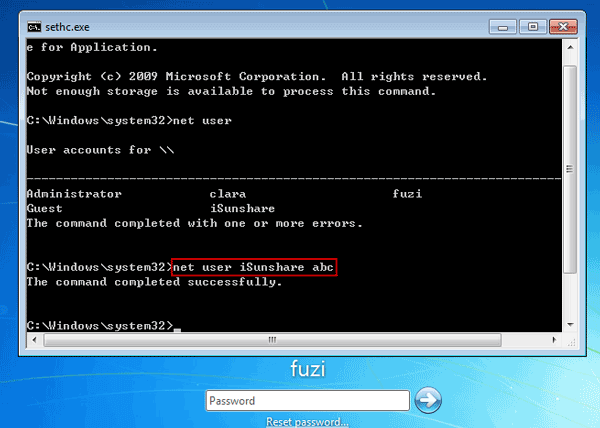 U can download this bootable iso. I must confess both sucks, but still makes day to day life easy. It will detect all system and users in your system, just select the one you want to reset and click Reset Password to remove it. Well,there is a great way of hacking an administrator account from a guest account by which you can reset the administrator password and getting all the privileges an administrator enjoys on windows. Only administrators can change any user password at a Windows command prompt.
Next
Hack administrator from Guest account.
I can't find any information on it. I know I'm a little late to this conversation but please, if someone could help me. It will prompt for new password and confirmation. Method 2 For computers that get only one account or all the password of the accounts is lost. Is there a way to circumvent this access request or did they fix this windows bug? Now you will see the list of users on the right side pane, such as Administrator, Guest etc.
Next
Hack administrator password using guest account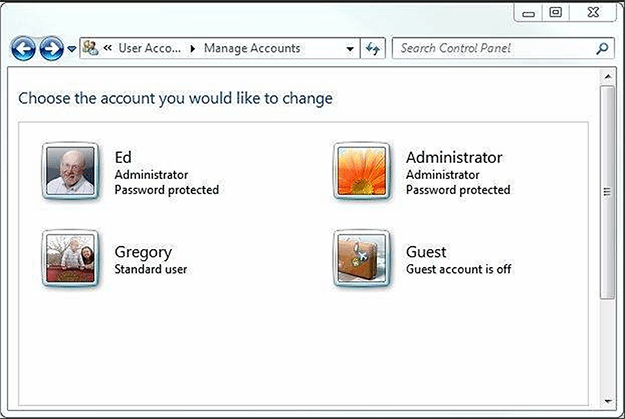 Thanks, The little school kid. Guest account with access to write on system 32. This facility will even work on the logon screen. Assure that you have created it in advance. Thats it now you are invisible but still admin of the system. · Now Log out from your guest account and at the user select window,press shift key 5 times.
Next
How to break into the Windows admin account from a guest account
Here I would like to show you with default Windows 7 administrator account. Otherwise, you change to hack Windows 7 password is over. Don't worry I will not take much time. If you have privileges to change System32 to being writeable, you already have admin access so wtf is the point of this? Tip: You can right-click on cmd. You are here because you wanted to know How to hack administrator access from guest account in Windows 7. Now you can open Control Panel, then in User Accounts you can reset any user password easily.
Next
How to Hack Admin Password from Guest Account
Besides hacking a local account password this tool will also show you how to break main user account password. The clearness in your post is simply nice and i could assume you are an expert on this subject. Note: This article is for purely educational purpose only, Don't use it against anyone to harm and Alltechspot is not responsible for any illegal activity based on the content. You can go to its official website to for more information: After reading this article, you should have learned how to hack Windows 7 password when you forgot or lost the password. At this point is where you can change the admin password and make any modification to the system using administrator privileges.
Next
How to Hack Admin Password from Guest Account
I was then able to delete the password for one of the accounts. You can create your another admin privileged account and even hide that! Prerequisites: Guest account with write access to system32. Note: This method also works on Windows 8 and Windows 10. So now when I try to access command prompt after I log in nothing happens when i double click command prompt in the start menu. Are you curious to know this interesting trick. Windows Password Key loads, follow the interface to hack Windows 7 password.
Next
How to Hack Admin Password from Guest Account
Anonymous Lexi-Comp monitors official sources of clinical information and updates continuously to ensure you always have the most recent and accurate data at your disposal. Now the file opens up to see all this privacy statements. Instead a command prompt having all the administrator privileges shall open. When windows ask for overwriting the file, then click yes. Okay, I guess I should have messed around with it before posting.
Next
How to know admin password through guest account
Windows Bugs :D Method 1: This one's the same as , so go through the next ones. Concept: Press shift key 5 times and the sticky key dialog shows up. Rather than making use of the sticky Key confirmation dialog the command prompt allowing you all administrator rights will open up. Thanks a million and please keep up the enjoyable work. Hey, i tested this out on my computer and once i copy the cmd. Now to reset the password—just type the following command, replacing the username and password with the combination you want: Command : net user account. In this article am going to tell u how to know and reset the administrator password through the guest account.
Next
Hacking Zone: Hack administrator password using guest account
This is the place where I will keep you updated with latest hacking tricks. So if you sign on as different accounts and attempting to resetting Windows password for the administrator, then you may also need to download and install the program on another computer, simply the same as what we introduced previously. When asked to overwrite,overwrite the sethc. I have also seen ways of doing this with a Windows disc, but i do not have one available. Thank you very much for the tutorial Reply I have followed tutorial iam having problem at end where I am renaming the stick keys file and copying the command prompt file when I finally restart computer and hit shift 5 times the command prompt isn't popping up the stick keys are no longer popping up but as I said no command prompt so I'm guessing it's how I am copying and saving the command prompt could someone in detail please explain this step I copied the whole notepad page under cmd. Live as admin forever and keep screwing the real admin forever. Method 2: This is another method you can use to hack admin password without knowing it.
Next