Crack windows 8 password using cmd. How to Hack WiFi password using cmd
Crack windows 8 password using cmd
Rating: 7,6/10

1179

reviews
techexpert: HOW TO HACK WINDOWS 8 OR 8.1 USING CMD
It would hardly take 5 minutes to crack admin password with that method. I can strongly assure you that he's one of the best ethical hackers I've ever met, It was a blessing meeting him, Just let him know Miss Hernandez referred you. This trick will work with most of the wifi devices that have old hardware modems and routers. See the Important call-out in the introduction at the top of this page for more on that. Note: If you didn't share the computer with others, go back to the introduced two methods for help.
Next
techexpert: HOW TO HACK WINDOWS 8 OR 8.1 USING CMD
Now that you have access to a command line, you can reset your Windows 8 password. How to Crack Windows 8 Password? If that doesn't describe your situation, go for versatile. It uses the 256-bit encryption model and is tough to hack. You can either set a new password during installation or later on in Control Panel. Still have difficult in creating windows 8 password reset disk? We have a software tool in our store which is , you can reset the password in just three steps. Next type list vol and press Enter, you'll see a list of your disk partitions, from which you can easily find your Windows installation partition.
Next
How To Find Administrator Password in windows 10 using CMD
It is a good habit to change Windows 8. In this example, we will be changing top-password's password to 123456. So, this account also have full admin priviledges. From my own perspective, I prefer using Windows 10 password recovery tool to break Windows 10 Microsoft account password and local user account password. Read this guide carefully to learn about how to get user password from Command Prompt Windows 8. Now it will be back without asking password.
Next
techexpert: HOW TO HACK WINDOWS 8 OR 8.1 USING CMD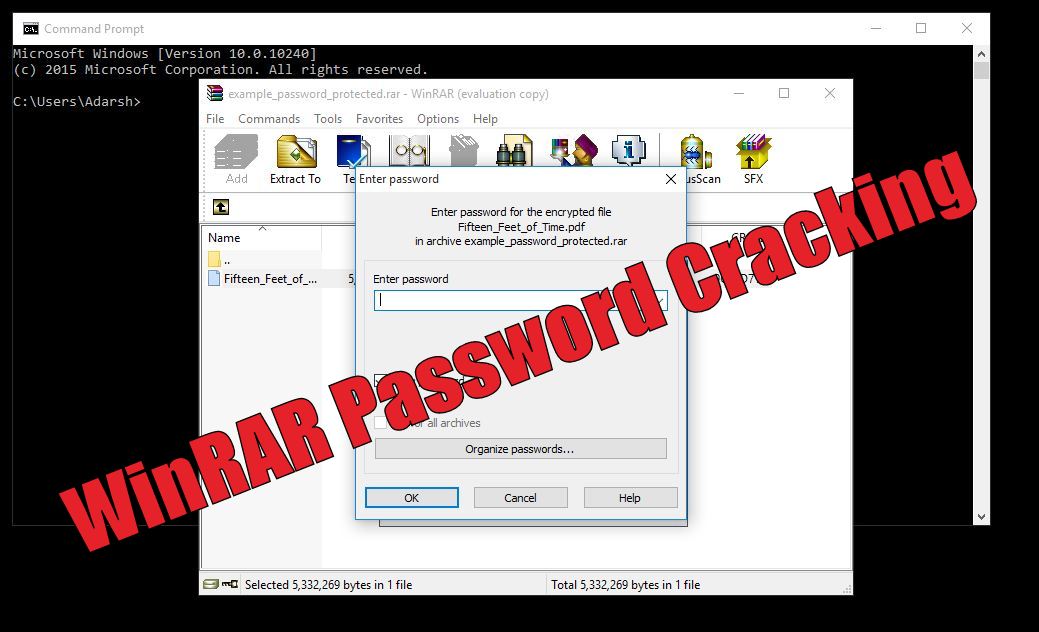 For example, I love to play badminton could become n. Replace the username with your computer's username, and password which you want to set. It is a lot easier than resetting the password on local account. It works on , Windows Vista, and Windows Server 2008, too. We are sure you can easily hack or crack the password using this tool. You can experiment these trick with your neighbors or friends.
Next
How to Reset Windows 8 Password with Command Prompt
You can also browse our other easy hacking tutorials. Below are some steps to hack wifi password using cmd. Here I would like to give you a detail guide on windows 8 password recovery without any data loss. Here I would like to share some practical tricks on how to crack windows 8 password with you. Choose the proper one according to your own situation. Luckily for you, you can crack Windows 8 password with no fuss.
Next
3 Options to Crack/Hack Windows 10 Password (with Pictures)
Well, this article covers all situations you may encounter about resetting password for Windows 8. Now Exit the Command and Go back on the Desktop screen. Select the Administrator account that appear in the screen, then enter command prompt. You need to use your alternate email or phone number you've provided when starting your Microsoft account. Then, you can enter anything or leave the password blank while logging in. Also, please know undoing these changes won't undo your password change so don't worry about that.
Next
I Forgot My Windows 8.1 Password and I Don't Have Recovery Cd/Dvd So How Can I Reset It... « Null Byte :: WonderHowTo
Additional Tips: Alternative Method for Windows 8 Password Reset Have no previously-created password reset disk or another administrator account and think that resetting Windows 8 password with Command Prompt is too difficult for you? Re-type the same password in Confirm Password option. The system will discard those changes and will act as if nothing happened. Command Prompt is a free way to reset Windows 8 Password without password reset disk or third party software. Then press F10 to save and exit all of your actions. Don't forget to replace trinath With your Admin Name.
Next
How to Change a Computer Password Using Command Prompt: 13 Steps
But there are different ways to get around a logon password without even knowing it. It's more easy and convenient for you, moreover, it's appropriate for any situation. Command Prompt should now open. If you lost your password, try use. Follow the wizard to reset lost or forgotten Windows 8. Crack Windows 10 Password with Kon-Boot allows you to log on to Windows without even knowing the password.
Next
How to Hack Windows Password Using Command Prompt (Windows 8 and 10)
Here, Windows 10 account can be converted to a local account from boot media, so you don't have to lose files to log into Windows 10. It's frustrating when you are being blocked by the security enforcement which you have implemented for others. Moreover, no more prior skill or requirements needed. The system will boot normally after a few seconds. Otherwise, you might even get caught.
Next